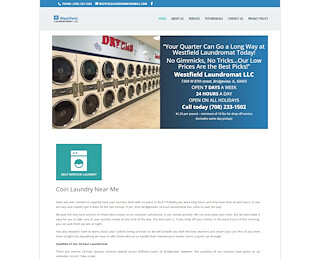 The modern laundromat must always keep abreast of all industry developments to maintain a competitive streak. They must have a constant update of amenities and a welcoming atmosphere. The laundromat owner must also keep the premise safe to support the 24/7 service. We are keen on maintaining the best Chicago Ridge 24-hour laundromat even without our constant presence in the facility. The following are tips that will help you choose the best Chicago Ridge 24 hour coin-op laundromat.
Tips for choosing the best laundromat
24-hour service
In all our years of operating the Westfield laundromat, we realized that people prefer coming to the facility at any time instead of working around restrictive hours. The 24-hour laundromat offers the following benefits:
You can check into the shop at midnight to maintain your regular daytime routine.
We are available to a wide array of clients, including factory workers, medical professionals, and students who have tight business hours.
Our 24-hour laundromat is a distinctive brand that attracts many reviews from the many different clients who enjoy our service.
The Chicago Ridge 24-hour laundromat has minimal traffic at peak hours because people can come in at any other time. You also do not have to pay an extra fee to enjoy the resources at all times.
Location
Initially, the location was a prime factor in choosing the best laundromat near me. People prefer walking to the shop with a laundry bag instead of driving across three streets into a new neighborhood. The Chicago Ridge laundromat is at a prime location next to housing communities and properties that require frequent laundry services.
It is also essential to make sure that the property's virtual location is verifiable online and has enough mentions on several search engines. Our shop has a prominent online presence and a Google Map you can use to pinpoint the exact location. It should be easy for you to find directions to our 24-hour coin laundry, especially when you only want to walk there for a quick laundry service.
Efficient management
How much time does the management spend to ensure the facility is in excellent condition? Most owners spend little time in the store and leave clients to tend to themselves for a giant portion of the month. Laundromats with an amenable team are the best because they ensure all devices and services are in excellent condition. We do not let broken machines run to waste or ignore the empty shelf of laundry products so that everyone enjoys the same excellent service at all times.
Fast response of the 24-hour laundry near Chicago Ridge
Do the machines look and smell clean? What is their maintenance program? We are adept at responding to concerns of failed machines and constantly check out for the following details:
Broken equipment
Visible physical or electrical malfunction
Leakage
Age of the equipment
Dysfunctional coin system
Failed drain system
Visible damage
Additional resources
Part of our good reputation is the additional comfort from the full-time staff, plenty of machine variations and the latest technology for all machines and dryers. Get in touch with our team at 708-233-1502 or stop in to do your laundry in the 24-hour laundry service in Chicago Ridge IL.